Advanced Creative Writing Course
Advanced
Creative Writing
Advanced
Creative Writing
A fast, effective way to gain the skills required to write any form of fiction – from novels to short stories
A rigorous course for both beginners and seasoned writers
Now that you've completed the Basics of Creative Writing Course, it's time to learn more sophisticated techniques for even better storytelling.
This course teaches you how to:
use dialogue, action and description to create strong characters
drive your story forward and keep your reader hooked
build mood, atmosphere and tension
write impactful scenes
If you'd like to get more practice writing scenes before you tackle a short story or novel, this is the course for you.
Fine-Tune Your
Creative Writing Skills
Learn sophisticated ways to
achieve mature, polished writing.
Did you love the Basics of Creative Writing Course? Well, the Advanced Course is even better!
Challenge yourself by completing 20 rigorous writing assignments in five modules, working one-to-one with Helen Brain.
**Please note that this course is only open to graduates of our Basics of Creative Writing Course who attained a minimum average of 75%.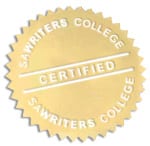 Master the Basics of Creative Writing
Jump-start your
fiction writing project
Developed and refined over many years, this course offers a unique opportunity to benefit from years of writing experience in just four months.
You will work with an award-winning author for the duration of the five-module course. It is this one-to-one, professional feedback and mentoring that brings about the most noticeable improvements to your writing.
Work through your 200-page course manual and complete 40 writing assignments, with feedback on each writing exercise.
Don't waste time making the same mistakes and doubting your writing ability. Let your expert tutor guide you through the potential pitfalls of fiction writing and show you how to bring your writing to life.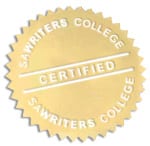 'My experience on the course was excellent. My writing confidence has increased and, more importantly, my writing skills have improved. My experience with The Writers College has been 100% positive.'
Deborah Forbes, Advanced Creative Writing Course
The assignments vary in length.
These modules include around 200 pages of course notes.
Work at your own pace – up to a maximum of six months.
Working with an individual tutor means you can start the course at any time.
Must have successfully completed the Basics of Creative Writing Course
Computer skills, e-mail and Internet access required.
No previous tertiary qualification required.
Our Graduate Students'
Successes
We are proud of our graduates who have achieved success. Here are a few among dozens of our creative writing success stories.
Martin Steyn
Martin Steyn completed the Write a Novel Course. He had his first novel, 'Donkerspoor' ('Dark Traces'), published by Lapa in 2014. The book was an instant success and bestseller, and had to be re-printed. His second book, 'Skuldig' ('Guilty'), received even greater acclaim. Since then, he has written two more novels.
Gareth Ward
Gareth Ward's novel that he worked on during the course went on to win multiple awards. 'The Traitor and the Thief', a rip-roaring young adult steampunk adventure, won the 2016 Storylines Tessa Duder Award, the 2018 Sir Julius Vogel Award for Best Youth Novel, a 2018 Storylines Notable Book Award, and was a finalist in two categories at The New Zealand Book Awards for Children and Young Adults. Gareth has this to say about studying with The Writers College: 'Hand on heart, there is no way I would have been published without Alex's guidance.'
Trish Nicholson
Trish Nicholson, a former Short Story Course graduate, keeps notching up successes on the writing front. Trish won first prize in the Flash500 competition, with four stories shortlisted during that year. She won first prize in the 'shorter story' at the Winchester Writers' Conference in the UK, as well as runner-up in the 'short story' category. Two of her stories were commended in the South Island Writers' Association competition. A finalist in both the H.E. Bates Short Story Competition and the Neil Gunn Writing Competition, Trish is one of our most successful creative writing graduates yet.
Suzanne Maine
Suzanne Main completed the Basics of Creative Writing Course. Her children's novel, 'How I Alienated my Grandma', won the 2014 Storylines Tom Fitzgibbon Award.
Andy Evans
Andy Evans completed the Basics of Creative Writing Course and the Literary Short and Flash Fiction Course. He had his first short story, 'The Wooden Hills', published in 'Takahē' magazine. He placed third in the NZ Writers College Short Story Competition with his story 'Gravity'.
Taemumu Richardson
Taemumu Richardson was shortlisted in the Writers' Forum Short Story Competition. This is a big achievement as this competition draws a huge number of entries globally. She was also shortlisted for the Flash500 flash fiction competition, longlisted in the NZ Writers College Short Story Competition and received an honourable mention in the L. Ron Hubbard Writers of the Future contest. Tae had a story published in the literary magazine 'Takahē'.
Megan Frith
Megan Frith completed our Short Story Course and our Novel Writing Course. Her short story 'Scars' came first in the 2014 Page & Blackmore Short Story Competition. She went on to place third in the 2015 Page & Blackmore Short Story Competition for her short story titled 'Till Death'. Recently, two of her stories were published in 'Horizons 2', an anthology compiled by the Top of the South branch of the NZ Society of Authors.
I've been writing for 25 years, and teaching creative writing for 15. I've seen over a thousand students graduate from my courses, and have an exceptionally high completion rate.
I'm very interested in the craft of writing and believe that this is something that can be learned and practised so that the story that appears on the page correlates more closely with the story in your head.    
I love teaching one-on-one, and supporting my students as they stretch themselves creatively and technically.
Achievements:
Over 60 books published for children, young adults, 1997 – 2019
Here be Lions, a memoir, published 2006
Fiery Spiral trilogy acquired by US publisher Catalyst Press 2018
Ibby South Africa Honours list multiple years
ATKV Award for her teen novel Tamara
Three of her books have been selected for the SACBF (South African Children's Book Forum) Honours List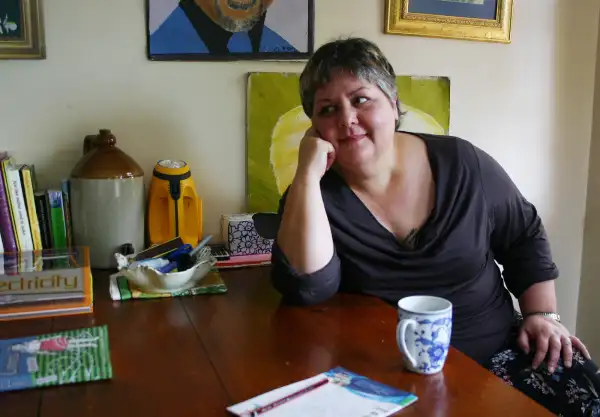 Introduction
What is dialogue?
Writing good dialogue
Five writing assignments
How Dialogue Is Used in Fiction
Bringing characters to life through dialogue
Revealing important information about characters through dialogue
Using dialogue to move the plot forward
Using dialogue to build suspense
Four writing assignments
​Creating Strong Characters Using Dialogue
Building character through dialogue
Building character through action
Building character through description
Introducing your character immediately
Demonstrating character through the eyes of other characters
Using metaphor to reveal a character's life path and worldview
Interactions with other characters; power relations (who is dominant/submissive?)
Seven writing assignments
Developing Backstories for Characters
Backstories
Exploring your own emotions
Six writing assignments
Some rules about setting
Ways to use setting
Four writing assignments
Suze Kolaczynski
Advanced Creative Writing Course

I walked away from the course with a deeper respect for all writers out there, as well as some self-confidence in my own abilities. I've learnt just how much work goes into producing a scene that people will enjoy reading. Helen is not only a gifted writer but an exceptional teacher. She has the ability to help you create writing pieces with heart and soul. She'll tell you if she thinks you're heading off in the wrong direction and encourage you to produce something more authentic that readers can connect with. If you've ever been curious about what goes into making a great story, I strongly recommend taking up a course with The Writers College. You won't be disappointed.
Brady Heslop
Advanced Creative Writing Course

This course was way more challenging than the Basics of Creative Writing Course. I feel as though I've grown in different areas of my writing. My tutor Helen was down to earth and honest, which made me comfortable with the way I put my words together. Completing courses with The Writers College is truly convenient and worth every cent.
Jared Aisher
Advanced Creative Writing Course

I had no hesitation starting the Advanced Creative Writing Course after I had finished the Basics Course, and I'm so glad I did. Helen is an incredible teacher! She always gives constructive, intelligent feedback in a very encouraging way, and I could tell she put a lot of time and effort into marking my work. Helen's expert guidance in this course is invaluable for anybody wanting to further their writing abilities. I have much more confidence in my own writing, editing and storytelling, all thanks to this course. I would recommend this course along with the Basics of Creative Writing Course to anyone wanting to start a writing career or just polish their skills. It was immensely fun and very rewarding.
Maria Papas
Advanced Creative Writing Course

This course was so enjoyable. I learned so much about what goes into making a great scene. Every module was laid out in such a way that made it easy to understand, without any complications at all. Helen was a wonderful tutor and mentor – her advice was invaluable! She was very encouraging in her feedback and was always there to help me whenever I had any questions. She helped build my confidence and taught me exactly how a good scene should be written. Thank you, Helen! All three modules covered just about everything necessary to improve my writing skills. I am so grateful to have signed up with The Writers College. These past six months have felt like a thrilling journey. Thank you so much. I loved it!
Michelle Peart
Advanced Creative Writing Course

I have learned so much on this course, not just about the tools of writing but about what kind of writer I am and where I want to go with my words. Helen's guidance on this course, and on the Basics of Creative Writing Course, has been invaluable in my journey to becoming a writer. I'm going to miss the structure and the hand-holding she afforded. The Writers College and the two courses I have attended have given me the confidence to run with my writing. Thank you so much.
Savannah Lahtinen
Advanced Creative Writing Course

Helen was a wonderful a tutor. She encouraged and inspired me to push through the limits I thought I had. My confidence as a writer and passion for writing have grown thanks to her support. I know many of her comments will remain with me and enrich my future writing.
Get These Additional Benefits
Risk-Free 100% Money-Back Guarantee
We are so confident that you will love your course that if you're not 100% satisfied with the quality of our training, simply ask for a refund within 30 days.
Complete the Application Form to Enrol on the Advanced Creative Writing Course
You will receive an approval email and invoice within one working day.
Questions?
We've Got Answers
'This course was demanding; it challenged me and stretched my writing. Helen was a patient, encouraging tutor; she inspired me to keep going.'
Anna Gifford, Advanced Creative Writing Course
We would love to help you choose the best course for you. Tell us what style of writing you want to develop and we'll give you some options.