Whether you are writing for your website, blog or newsletter, follow these guidelines to reach your target market and build a credible and trustworthy brand.
By MARIZE KOLVER
People are spending most of their time online, reading and writing more than ever. That is why more and more brands now understand and utilise the power of web writing to transform their online presence and connect with their audiences.
So, how can you use writing to create an authentic brand, build trust and grow your reach?
Give your brand personality
Create a unique personality for your brand by exploring new angles, ideas and niches. This will make your piece stand out from the millions of carbon copies on the web. Do not be afraid to showcase your own creative style and voice in the content you create.

Focus on headlines
Your headline is the most important component of your article. It will either draw the reader in, or drive them away.
Consider the following tips when writing headlines:
Keep it short (under ten words).
Invite the reader's curiosity with an intriguing question or a bold statement.
Address the reader directly, using 'you'.
Use headlines with numbers (e.g., '4 Ways to…' or '5 Tips for…').
Use headlines with suggestions (e.g., 'Why you should…').
Use simple, unambiguous words.
Read more about the importance of headlines here:
Writing Effective Headlines For The Web
Use SEO techniques
Key SEO techniques will ensure that your content shows up on the higher rankings of online searches.
The article 'Do Content Writers Really Need To Think About SEO?' states that 'the higher a page or content ranks, the more traffic it receives. Both SEO and content writing are equally important and necessary for generating traffic. Original and enticing content will bring users to your site while SEO tactics allow it to rank on search engines.'
Important SEO tips to remember:
Load your headline with primary keywords.
Write one idea per paragraph.
Use subheadings.
Incorporate keyword phrases in your copy.
Read more on SEO techniques here:
Writing Effective SEO Copy For Websites
SEO For Bloggers – How To Improve Your Ranking
Engage your audience
What do your readers want to know? What topic would be meaningful and valuable to your audience?
'Our readers are important to us, especially if they become our customers. Our blog is a chance for us to have some fun with our brand, promote ideas or marketing strategies that normally wouldn't fly elsewhere, and share our passion for our products, services, and industry. It's not enough to just post some zany articles, however, as every blog should have a clearly defined purpose!', writes Bob Adams, the founder of BusinessTown.
Even if you are an expert on a topic or niche, it is crucial to write about topics that your readers will find interesting. Think about the purpose of your piece and how the information should be presented – in a list, table, image or a longer format.
Include a call-to-action
Outline the purpose of your content with a clear call-to-action, such as 'find out more' or 'click here to sign up'. You can subtly add links in the content or a call-to-action in your final paragraph or in your bio.
By adding actionable phrases and hyperlinks that prompt readers to click through your page, you can convert readers into potential customers.

Conclusion
Content that communicates your brand's message on a personal and relatable level creates a lasting impression, inspiring your audience to participate and connect with your brand. Equally important, it can also serve as a potential source of revenue-generating leads.
About The Author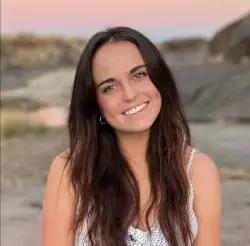 Marize Kolver is a writer, aspiring photographer and digital marketer. She spends her time bringing about thought-provoking ideas and strategies to align businesses with their marketing goals.
When Marize is not writing or working, she is on her family's farm in the Free State, taking photos, chasing fantasy on horseback, or exploring and experimenting with new concepts and ideas.