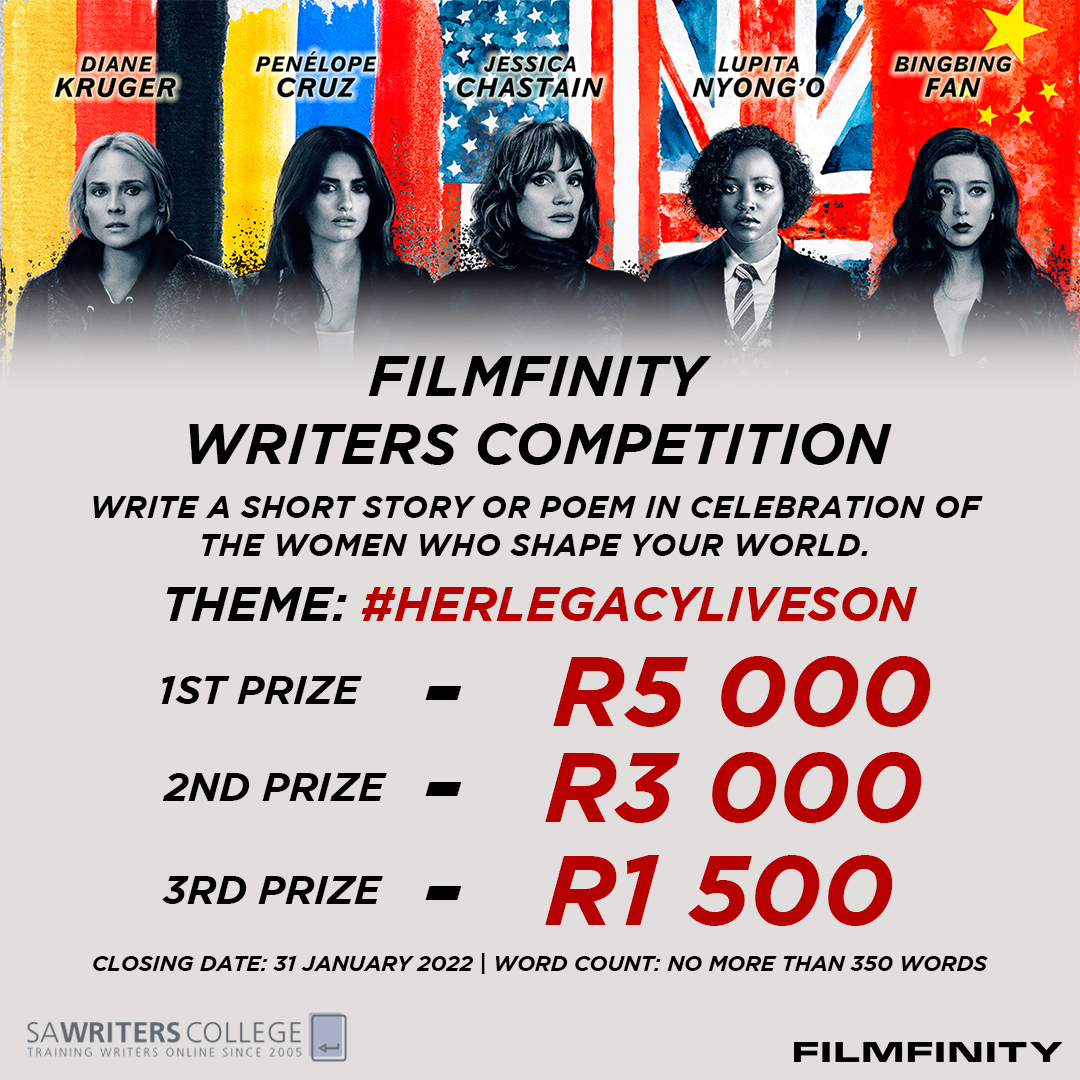 The 355 #HerLegacyLivesOn Writing Challenge
The 355, featuring Jessica Chastain, Penélope Cruz, Lupita Nyong'o, Diane Kruger and Sebastian Stan, is an action/spy flick coming to cinemas in January 2022.
"When a top-secret weapon falls into mercenary hands, a wild card CIA agent (Jessica Chastain) joins forces with three international agents on a lethal mission to retrieve it, while staying a step ahead of a mysterious woman who is tracking their every move."
To celebrate the release of this major blockbuster, TeamFinity has teamed up with The South African Writers College for a special short story and poetry competition.
The Theme
The 355 is a celebration of powerful and diverse women with a mission! The film's title references agent 355, which was the code name of an unidentified female spy who fought during the American revolution.
Your challenge is to write a 350-word short story, or a poem, based on the theme: 
#HerLegacyLivesOn
The theme of this competition aims to celebrate all those powerful women who have shaped our own lives.
Prizes:
First prize: R5000 cash
Second prize: R3000 cash
Third prize: R1500 cash
How to enter
Write a story or poem of between 250 and 350 words, inspired by the theme "Her Legacy Lives On".

Poems may be shorter than 350 words, but not longer.

Submit your entry to writerscompetition@teamfinity.co.za

Deadline for entries: Midnight on 31 January 2022.

All entries must be original stories that have not been published before.

By submitting an entry, you agree that TeamFinity may publish your poem or short story on their website or social media pages.

Fanfiction about the film or any of its characters will be accepted.